Advancement through knowledge and skill building.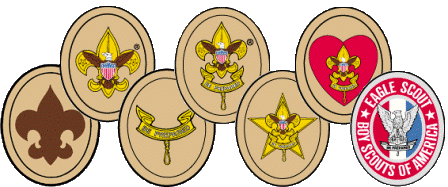 Through the scouting program, each scout pursues a rank advancement, which requires them to learn new things in a variety of areas, including outdoor skills, citizenship, conservation and first aid, to name a few. Each scout progresses at his own rate, following a more fixed set of requirements in the lower ranks and expanding into a broader fields of study in the higher ranks. In addition the scouts must demonstrate scout spirit by living the Scout Oath and Laws for each rank.
After joining the troop as a Scout, you'll earn seven ranks on your path to Eagle Scout. You can work on the first four—Scout, Tenderfoot, Second Class and First Class Scout—at the same time. Most of the Scouts become First Class Scouts within 12-18 months of joining the troop. You'll find that you can complete all of the requirements by attending troop meetings regularly, participating in the troop's monthly outings, and joining us for our weeklong summer camp.. As you earn each of these ranks, you'll find yourself developing terrific outdoor skills, self-reliance, physical fitness and community service.
Troop 505 plans advancement into our program and activities throughout the year. Fun with a purpose is the goal. We start with our advancement camp in March that gives our scouts a real jump start on advancement. The learning is infectious. We follow with events and campouts throughout the school year. Summer camp is the place to get a lot done not to mention a lot of fun. Please take a look at our schedule of advancement that we follow for our new scouts. You may also find our advancement forms useful.
Click on the ranks below to see the requirements for each rank:
Leadership Positions: For Star, Life and Eagle the scout will need a position of responsibility (leadership position) this file has more information about the troop leadership positions (82 Kb PDF)

Interesting Local Opportunities

There are a few interesting places where a Scout can earn a merit badge outside of Summer Camp or troop activities. This information will be updated as it becomes available, note: some depend on weather etc.
Troop Policy on classes for Eagle required merit badges. Eagle required merit badges eared in class will only be accepted from preapproved sites. Currently that list is: summer camp, Morton Arboretum and the week long Environmental Science class through the Du Page County Forest Preserve.
The Morton Arboretum - Offers interesting merit badges throughout the year. Currently (Fall 2009) they are offering, Forestry, Weather, Nature and Environmental Science. The cost is range from $30 to $60 per Scout (less if member) and is usually offered on various weekends. The up to date information can be found at their web site or call 630-719-2468 for registration.
Du Page County Forest Preserve offers a weeklong Environmental Science class (GO! Camp of Guys) during the summer. Two of our scouts attended the class this summer (2009). The program was excellent, well organized and clearly taught. The boys learned a lot and had fun. More information is at their web site follow the link "Summer Programs for Kids" or call 630-850-8110.
Another excellent program is the all day Fly Fishing class from Oak Brook Trout Unlimited. This is a free one day program that is hands on and very well taught. Three of our scouts attended in 2009 and 2010 and had a wonderful time and learned a lot, we also made the front page of their newsletter.. The class is small and fills up fast. They had 2 classes in 2010. Contact the them early (March) if you would like a spot.
Fermi Labs - Offers most of the Atomic Energy Merit Badge to groups of scouts (less than 20).
Coin Collecting Merit Badge - Each year in December there is Coin Collecting Merit Badge Program held in conjunction with the West Suburban Coin & Collectibles Expo in Countryside, IL. The show is located at Park Place of Countryside Banquet Hall, 6200 Joliet Rd. All interested Boy Scouts in the Chicagoland area are invited to attend. (next show Nov 13, 2011)
This has been a very well received program presented by Patti Finner, a Certified Merit Badge Counselor. Boy Scouts will learn the requirements for the Coin Collecting Merit Badge and can complete them at the show. Each scout will receive educational material. Specifics are finalized by mid October, please RSVP to Kevin Wasmer at 630-399-9060 or email at kwasmer@comcast.net
Pathways to Eagle XX in Bolingbrook, in late July/early August good chance to earn non-required merit badges
The Merit Badge Information Event Summary Page has listing for Merit Badge events through out the country.


How to Get a Merit Badge

When you wish to get a merit badge on your own (and not through a troop activity), you should first read the requirements. Find out if it is possible for you to do, i.e. doesn't require you to have access to something we just don't have in the Midwest. If it still appeals, you need two things, a blue card and a counselor. You can get a blue card from Assistant Scoutmasters at any troop meeting. It needs to be signed saying you can do this. Ask at the meetings if we have a counselor in the troop first. The list will not have those counselors that are for our troop only. If we don't have one, look on the list and look for people close to you. Your parents can help you there. Then you make a phone call. Some counselors run sessions every so often, some work with two or more scouts, it will depend. Since these people are volunteers, their time might be blocked out so it may take a while to get a session.

Most merit badges are you doing the work, reading, constructing etc and the merit badge counselor checking on your work, so don't expect to be taught, you will have to do the work. Once the counselor feels you have completed all the work (usually two or three sessions), he or she will sign the card and give it back to you. You will then have it signed by a Scoutmaster or Assistant Scoutmaster and then have it turned into the Advancement Committee member. At the next court of honor, you will receive your badge.
Religious Emblem Programs

These programs were created by the various religious groups to encourage youth to grow stronger in their faith. There is a program for almost every faith. Please see the linked PDF or PowerPoint file for more information.

(Please note that these awards are not required for advancement)

Awards

Firem'n Chit

This certification grants a Scout the right to carry matches and build campfires. The Scout must show his Scout leader, or someone designated by his leader

Paul Bunyan Woodsman

Builds on the skills learned in Totin' Chip.

World Conservation Award

Award provides an opportunity for individual Cub Scouts, Boy Scouts, Varsity Scouts, and Venturers to "think globally" and "act locally" to preserve and improve our environment.

Leave No Trace Boy Scout Award

Leave No Trace is a plan that helps people to be more concerned about their environment and to help them protect it for future generations. Leave No Trace applies in a backyard or local park as much as it does in the wilderness .

Emergency Preparedness Award

The Emergency Preparedness Award is part of a new BSA program of emphasist on cooperation with the Federal Department of Homeland Security

Hometown U.S.A. Award

The Hometown U.S.A. Award is a joint program between Keep America Beautiful Inc. (KAB) and the Boy Scouts of America. It is designed to give recognition to the outstanding efforts of Scouts in their communities in regard to citizenship and environmental improvement.

Historic Trails Award

Historic Trails Award requirements emphasize cooperation between historic societies and Boy Scouts. A unit should establish a close relationship a local society as soon as possible when planning a historic activity - most communities have such societies.

Mile Swim Award

The Mile Swim BSA Award is offered by many Boy Scout Summer Camps as a part of their aquatics program. The patch is not worn on the uniform,

50-Miler Award

The primary objective of this program is to stimulate interest in the ideals of the movement and to promote activity that will result in personal fitness, self-reliance, knowledge of wood lore, and a practical understanding of conservation.

The National Honor Patrol Award

This award is given to patrols whose members make an extra effort to have the best patrol possible. Your patrol can earn the award by doing the following over a period of three months.





National Outdoor Badges for Camping, Hiking, Aquatics, Riding, and Adventure

The five National Outdoor Badges recognize a Boy Scout or Varsity Scout who demonstrates both knowledge and experience in camping, hiking, aquatics, riding, or adventure. Scouts earning the National Outdoor badges have demonstrated that they are knowledgeable, safe, and comfortable in the outdoor activity covered by the badge.

Requirements / Information / National Outdoor Badges Application

100-Years of Scouting

Program participants will earn recognition for making a difference in their communities due to their dedication to five of Scouting's core values: Leadership, Character, Community Service, Achievement, and the Outdoors. Through that commitment, participants can earn each of five award ribbons to display from our 100th Anniversary commemorative patch.

A Year of Celebration will take place from September 1, 2009 through December 31, 2010. The program is open to all Cub Scouts, Boy Scouts, Venturers, adult leaders, and Scouting alumni.

William T. Hornaday Award

The William T. Hornaday Award recognizes Scouts and Scouters for their service to conservation and ecology efforts in their communities. There are seven different Hornaday awards with varying requirements. The youth individual awards are based on earning certain merit badges and completing one or more significant conservation projects.

The Silver Medal award is the highest possible attainment in conservation for a Boy Scout
The Gold Medal is the highest possible attainment in conservation for a Scouter. The gold medal may be considered when a qualified Scouter is recommended by his or her council, by an established conservation organization, or by any recognized conservationist. The nominee must have demonstrated leadership and a commitment to the education of youth on a national or international level, reflecting the natural resource conservation/environmental awareness mission of the Boy Scouts of America. Nominations must be approved by the BSA's national conservation committee.
A Unit Certificate can be awared to a den, patrol, or group of five or more Scouts for a unique, substantial, conservational project, but the square knot is reserved for those earning one of the medals.